Are you interested in learning how a ceramic car coating or paint protection film can lengthen the life of your vehicle's paint job? Do you need boat, motorcycle, or auto detailing to restore your vehicle to its fresh-off-the-lot look? Is window tinting the best way to maintain your comfort and privacy on the road? Call CSR Detailing to discuss all of these detailing services and look forward to a superior finished product. We have nine years of auto detail experience under our belts. We work on cars, trucks, limos, motorcycles, boats, and even small aircraft. From exterior washing and waxing to car interior cleaning for stains and spills, we'll give you our all. Learn more about why CSR Detailing is one of the most trusted auto detailers in Pompano Beach by calling or e-mailing us today! 
Professional Auto Detailing
Ceramic Paint Protection
Licensed & Insured
Nine Years of Experience
Emergency Detailing Services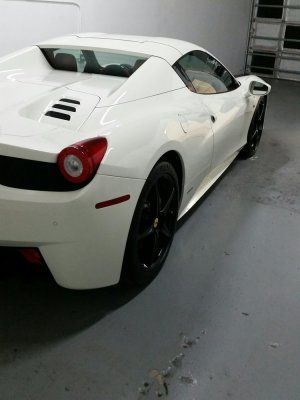 Since 2009, we've been serving customers right here in the Pompano Beach area. We offer detailing service to drivers, boat owners, and other customers throughout the surrounding region, including in Fort Lauderdale, Boca Raton, Coral Springs, Sunrise, Deerfield Beach, Delray Beach, Hollywood, Plantation, and Tamarac. Whatever vehicle you bring to our shop, and whether it needs car scratch repair or window tinting, you can trust CSR Detailing for a top-notch finished product.
We're proud to be licensed and insured for auto detailing, boat detailing, and more. On top of those qualifications, we stand behind our workmanship with a variety of warranties, including a lifetime warranty on ceramic car coating. We want your vehicle to continue to look and feel its best long after you drive away from our shop. Contact CSR Detailing regarding auto detail and cleaning and expect to enjoy your time on the road, on the water, or in the air that much more. 
Ready to get started? Give us a call today! We're available for emergency scratch repair, car detailing, and more, if time is of the essence. Regardless of the turnaround time, we'll provide high-caliber workmanship and unbeatable customer service. When you call to discuss your needs, we'll also be happy to give you a free cost estimate for whatever services you're seeking, from boat detailing to paint protection film application and beyond. We're your reliable and knowledgeable choice for detailing service in Pompano Beach, calling on our extensive experience and using top-of-the-line products to ensure you get a great result. 
What are you waiting for? Get your vehicle looking great by contacting CSR Detailing now!